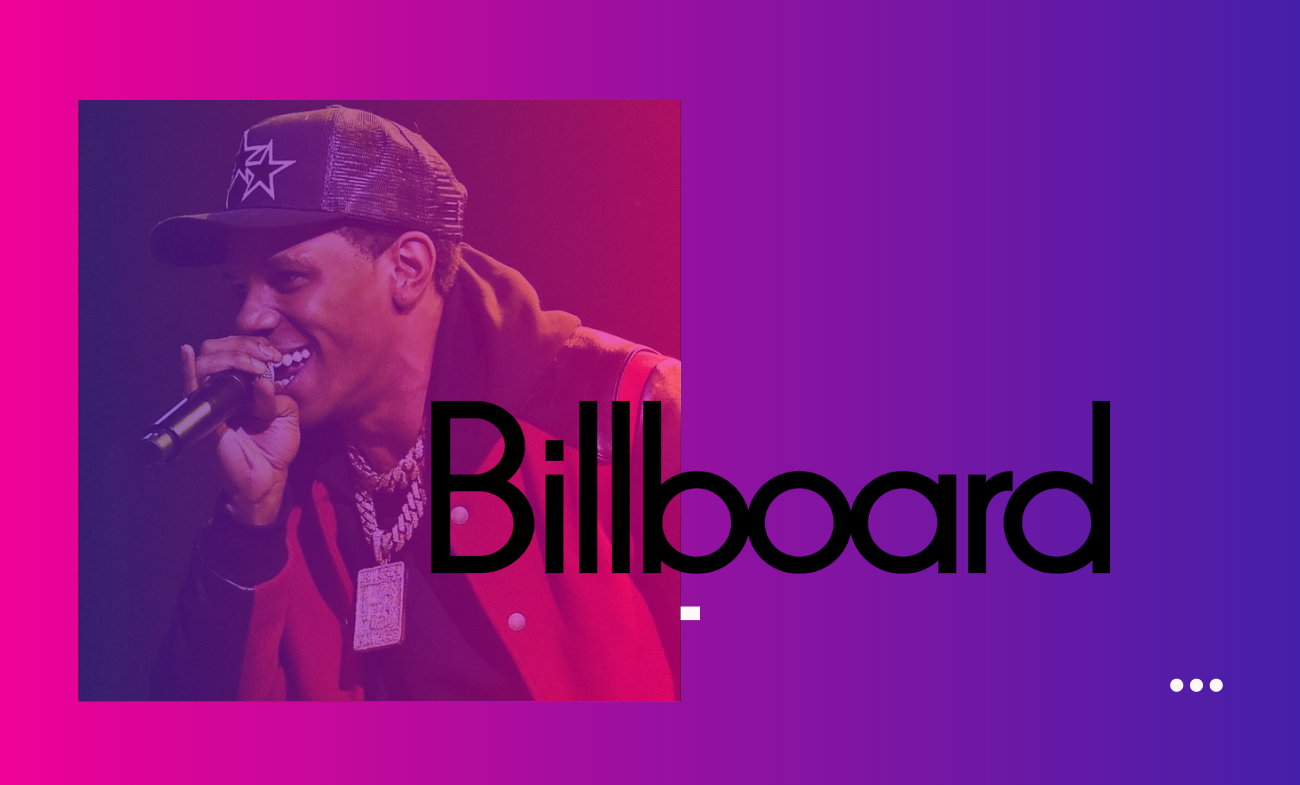 A Boogie Wit Da Hoodie, Bad Bunny & Jaden Smith Dazzle at Soulfrito Fest 2018 in NY
Since 2002, The Soulfrito Urban Latin Music Festival has been celebrated among mainstream heavyweights and Latin icons, alike. With the spirit of the National Puerto Rican Day Parade bubbling, Brooklyn's Barclays Center kicked off NYC's festivities with a sold-out all-star #Soulfrito18 event on Friday (June 8).
The concert's hip-hop lineup of contemporary game-changers offered a vibrant reminder of not only Latin artists' dominion in digital streams, but the culture in which music lovers unify with globally. So, who better than BK's own Heavy Hitter CEO, DJ Enuff, to get the party started with trap Latino anthems and New York rap classics?
Scratching against Frankie Cutlass' track "Puerto Rico," DJ Enuff acknowledged himself as Big Spanish. In no time, arriving attendees were partying as he transitioned through a blend of reggae and hip-hop records before announcing the opening act, LouGotCash.
Energetically lunging himself on stage to the beat of PnB Rock's "3X," LouGotCash paid respect to the fellow millennial emcee, but his mic faded in and out as he opened the show. Determined to keep the building crowd engaged, the rapper continued, even signaling the arena to light up their cell phones. But it wasn't until his viral smash "Make 10" dropped that his stage presence appeared above developmental. The crowd yelled, "Make 10, spend 2, save 8, yeah (Louie Baby)/ Bad bitches mad, no dates, yeah (It's Louie Baby)," as LouGotCash powered through the remainder of his set.
Santo Domingo songster La Insuperable sashayed through an army of reggaeton dancers showing exactly why she is La Mami del Swagger. To the hypnotic rhythm of "Me Subo Arriba," she dropped low in curvy-hugging shorts to deliver its beautifully accented verses, and fans cheered.
Alongside some militant male choreography, La Insuperable swung her pink locks into the upbeat crowd favorite "Dime Linda Te Llenaste De Odio" as showgirls sporting black latex onesies followed her sultry lead. Still, the Dominican starlet's recent release "Cama Vacía" made women sway and croon of their disdain for empty beds right before La Insuperable twirled off backstage.
Triple threat Amara La Negra (ALN) has developed the art of making an entrance since childhood stardom, but she pulled all the stops at Barclays Center. Clutching her gorgeous afro, she slowly strutted forward as she detailed her romance as the other woman on the song "Se Que Soy," and excitement peaked throughout the venue. Donning a red high cut tasseled dressed she switched gears and twerked to her Sister Nancy sampled danceable "What a Bam Bam."
With hips gyrating, a dozen women sporting scarlet bodysuit and pumps joined in, as ALN sang. Still, her Caribbean-fused ballad "Insecure" set off a rollercoaster of emotion into an unexpected soca twist. Stretching Dominican flags high, ANL and her dancers waved across the stage through her final number, a cover of "Jump" by Rupee.
HoodCelebrityy proved to be a force all on her own during her brief time center stage. As a reggae beat pervaded the venue, the songstress showcased impressive footwork before landing a split, causing a ruckus ahead of her breakout hit "Walking Trophy." Soon, two women wearing Jamaican flag printed bralettes and shorts shimmied behind her, and the audience became spastic at the sight of HoodCelebrityy.
But before anyone could catch their breath, DJ Enuff's voice rang through to introduce a hip-hop newcomer Melii. The curly lyricist jumped into her trap track "Icey." "These bitches don't like me, their baby daddy keep me icy," she rapped to the raucous crowd. And with one track, Melii did damage and left.
Philly singer-rapper PnB Rock's braggadocious cash-anthem "3X" fueled his strobing Soulfrito unveiling. However, the breakthrough of PnB's uncommitted anthem "Selfish" had the arena chanting, "I'm selfish, I want you all to myself, I swear." Enthused by the reception, he bounced to the beat of his assist on YFN Lucci's earworm "Everyday We Lit," showing off for the camera below him. Beyond the moves, his voice resonated well with the ladies, making the "Unforgettable (Freestyle)" a smooth selection for his exit.
Miky Woodz's reputation precedes him, and the reggaetonero's swoon-worthy "Aparentas" caused his loyalists to squeeze along staging gates to get a better view. As the rings gripping his mic glittered, Woodz's hard-nosed confessional "Ante de Morirme" stirred show-goers under him. Still putting on for Puerto Rico, the bars of "Yeah, I Know," boasts expensive tags that transitioned well into the record "Estamos Clear," featuring Bad Bunny. In all, Miky Woodz kept the crowd shaking until his final lyric.
Marching down a platform, the Jon Z cued Travis Scott and Kendrick Lamar's "Goosebumps" to remix the mainstream hit in Spanish. "How many Boricuas are in the building," he barked to a roaring audience inside Barclays. Four women dressed in camo shorts and crop tops served as Z's hype men, while the sure-fire "Viajo Sin Ver" made everyone jump from excitement. Soon, he ripped off his shirt exposing a slim build that resembled Wiz Khalifa's. Even so, what stood out most was his larger-than-life stage presence.
A curvaceous woman in a lowrider appeared on the Jumbotron as Latin trap singer Bryant Myers strolled out suited in Balmain below. This arrival was a heartfelt moment considering the armed kidnapping he and his mother endured in Carolina, Puerto Rico, just days before. As Bad Bunny's voice blared through for their collaboration "Caile," Myers swung his dreads and soaked in the praise.
In the same fashion, his lusty "Ella y Yo" verse and song "Pa Ti" provoked a suave two-step before a high energy dembow music break. Viral smash "Un Ratico Mas" enhanced his overall showmanship, but Myer's raspy flow on "Esclava" crowned the charismatic performance.
Singer-songwriter De La Ghetto returned to his birthplace making waves with the audience-pleasing starter "La Ocasión." Dapper from head to toe, his showmanship swiftly brought a flood of onlookers to the wings of the stage as "Llegamos A La Disco" played. And there was no detail too small for the reggaeton artist.
Then, the vibrant star caused instant pandemonium when he  zipped ro his popular single "Si Tú No Estás." To follow, the passionate aria, "Escápate Conmigo (Remix)" brought lovers side-by-side — effortlessly winding De La Ghetto up as one of the brightest stars of the evening.
"What's poppin' New York? Let's get crazy," growled rapper Jaden Smith from behind the curtain. DJ Camilo dropped the teen sensation's "Icon" and Smith moonwalked  his way onto the stage. Sporting his sought-after MSFTSrep merch, the burgeoning MC transformed into a superhero when "Batman" blared through the speakers. Later, an unreleased song filled Soulfrito's speakers, and Smith cut short the music yelling, "Brooklyn, I'm promoting unreleased songs 'cause, it's lit! If you're an icon, put your hands up like this." Thrusting his arms above his head, Smith whirled through the "Icon" encore to wrap the set.
In black overalls, a bare chest, and flannel outerwear, Bad Bunny gave a kick to the "Diles," instrumental and pandemonium commenced. The lovesick hit "Soy Peor" and summery "Sensualidad" left no room to contest Bunny's position as the headliner. Ear-piercing screams jolted the arena when a flaming bunny sign emerged and the drug-infused trap banger "Krippy Kush" knocked.
With his eyes on the prize, "Si Tu Novio Te Deja Sola" reminded the ladies, someone always appreciates what is taken for granted. Somehow, the serenader got his heart crushed enough to pen "Amorfoda," leaving it up to fans to harmonize and illuminate him with their lighters. Streaming platform success "Te Boté (Remix)" was accompanied by crying grabby fanatics and smoke machines. Then, Bad Bunny reached the end of the line with the hypnotic track "Chambea" as dancers body-rolled under rainbow streamers to conclude the soirée — or so we thought.
Assuming the evening couldn't be topped, Barclays Center began to clear out, but the logo of High Bridge The Label started to flash on screens above. A Boogie Wit da Hoodie's DJ O. Minya started spinning to create some momentum. The record "Not a Regular Person" rang through the venue right before his labelmate/lyricist Don Q joined the set for their effort "Floyd Mayweather (BridgeMix)." But, A Boogie's DJ Khaled-referenced song "Wild Thots" featuring Fabolous is what earned cheers.
Dressed in a timeless black denim jacket and ripped jeans, he finessed spectators with the head-nodding  wax of "Odee" and "Beast Mode." Soon, the saucy A Boogie glided through Chris Brown's danceable "Pills & Automobiles" before seguing into his New York-centric hits "Jungle Lyrics," "My Shit," and "Timeless." After staying true to his High Bridge stomping grounds with his gritty catalog, it was only right that he switched the vibe and perform "Drowning" as a proper send-off his fans, before exiting the stage.